R3Field Solutions
Mid-America Sports Construction has invested in a state-of-the-art turf removal process. With R3Field Solutions, Mid-America Sports Construction is able to remove synthetic turf, remove the infill from this turf, clean, classify the infill, and re-use the infill. Not only is the choice of re-using your classified infill economically responsible, it is environmentally responsible. 
The R3Field process is far superior to alternative process currently being used in the marketplace. Mid-America's process will reclassify the material that comes out of your field to make sure that only top performing, industry standard infill is put back in.  This process will keep any foreign matter that is lurking in your field before hand out of your new field. Some of the items removed out of fields include: pencils, bobby pins, mouth pieces, cleats, helmet pieces, metal, and other physically harmful items. 
R3Field Solutions will allow your team to play on top-performing infill while your school will benifit from the cost savings. 
R3Think.... R3Duce.... R3Play....     Game On!
---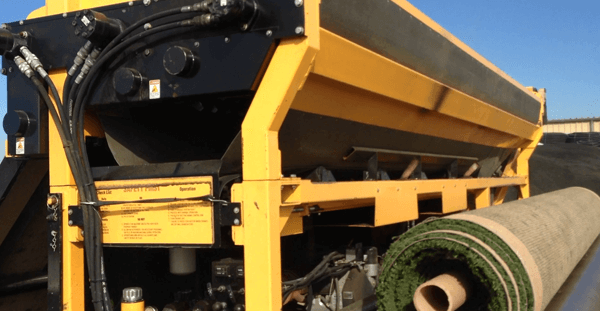 Turf Muncher
Remove the existing turf from a field
Remove the infill from the turf
Turf is rolled for easy transporting

Infill Muncher
All infill will be:
Cleaned

Dried

Reclassified, only top performing, industry standard infill will be allowed for re-use

Foreign matter such as physically harmful debris will be discarded along with infill that doesn't meet specifications set
---
Using this system of turf and infill removal will allow for the base construction to remain uncompromised. It will also allow for your school to lower liability, save costs, be enviornmentally responsible, and allow for a top-performing field. 
Please contact us if you are interested in any more information about our turf and infill removal through our new technology. Info@mid-americasportsconstruction.com
Latest News & Events
May
2
A Place To Call Home
After years of the football team utilizing Jefferson City Public Schools' Adkins Stadium, The soccer team playing and practicing on a field on Missouri 179, and the tennis… Read More...
Apr
3
Graduation and Synthetic Turf
The month of May is around the corner and seniors are starting to get ready for the end of their high school days. Students are starting to say goodbye to friends and family… Read More...