Mid-America Sports Construction
Want to know how much it costs to build a baseball or football field? Contact Mid-America Sports Construction for a quote today!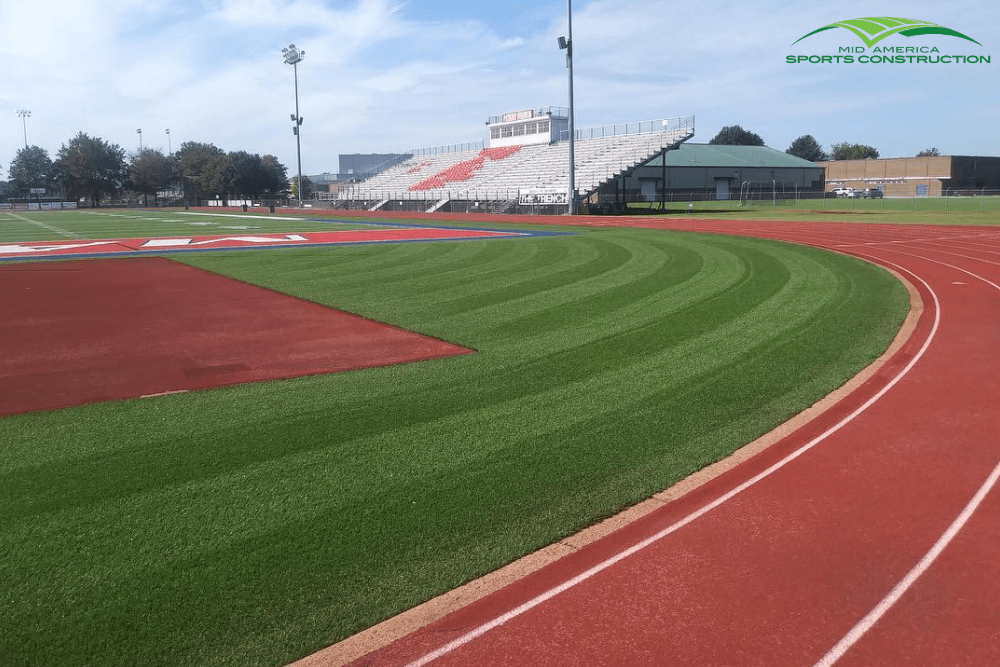 Mid-America Sports Construction builds state-of-the-art athletic sports fields for all types of facilities. Whether it is a brand-new installation or a renovation project, we are certified to use both natural grass and synthetic turf solutions to meet your athletic needs. We know how long it takes and how much it costs to build a baseball or football field! Our talented staff will carry out your sports field construction project on time and on budget.
Work with a soccer, football, track, or baseball field designer who can get the job done without any gimmicks! We handle everything from the surface-level sports turf installation to the lighting systems and stadium seating. For the sports turf installation itself, we go down deep to figure out the proper drainage and irrigation solutions to help create healthy and lush grass. We further optimize your athletes' playing experience by creating surfaces that are dry and level to best host efficient practices and superior gameplay!
Natural Turf Sports Turf and Field Installation
We know every project that involves a natural athletic turf installation is unique. When you meet with our certified and experienced team, you will quickly find that we sincerely take the time to get a feel for your needs and project goals.
Our attention to detail leaves no aspect uncovered when it comes to growing and maintaining natural sod, including:
Removing deteriorated sod and re-grading the ground
Installing proper irrigation and adjust coverage
Configuring soil drainage
Promoting healthy sod regrowth
Painting lines
Installing borders and running tracks
Artificial Turf Installation for Sports Complexes
Whether you plan to use artificial field turf indoors or outdoors at your sports complex, we offer complete installation solutions. Our end game is to help make the surface last for years and remain hypoallergenic for the athletes' benefit.
Look to us for:
Create the aggregate layers for turf draining and base construction
Select and install realistic artificial field turf by AstroTurf
Use top choices of turf infill designed for sports applications
Clean and brush turf fibers
Remove used infill for cleaning, drying, and reclassifying to determine if it is safe for re-use
Offer repair, replacement, and other field turf maintenance services
Latest News & Events
Mar
14
Baseball Field Construction Cost
No matter how often you played or watched baseball, there is a chance that America's favorite pastime takes people back to a moment when life was simpler. Either playing… Read More...
Testimonials
"The entire project was completed on time and with a minimum of change orders."… "We would enthusiastically recommend Mid-America Sports Construction to you, without reservation."
Dr. Bob Boerigter, Director of Athletics, Northwest Missouri State University
"Mid-America Sports Construction has proven to be a highly qualified Athletic Field Contractor. The employees go out of their way to complete the project accurately and professionally.
I will recommend Mid-America Sports Construction for any Athletic Field project."
Bill Dickerson, Associate Athletic Director, The University of Kansas