High School Sports Fields
Synthetic Sports Turf Installation Services for Football, Baseball and Multi-Purpose Fields
Dedicated to providing unmatched levels of quality and consistency, Mid-America Sports Construction specializes in synthetic turf installation services for many different types of locations, including high schools. Our athletics field and sports field constructions are engineered to endure the rigors of frequent use, intense weather conditions and other typical causes of wear and tear.
At Mid-America Sports Construction, we prioritize the safety of your athletes and the durability of the playing surface. We work in tandem with your needs and budget to make your vision a reality. When it comes to sports field construction and turf installation, our commitment to excellence lands us far ahead of the competition.
Our company is one of only a handful that is qualified to build both natural grass and synthetic turf fields, per ASBA certifications.
Synthetic sports turf doesn't need to be watered, mowed or fertilized to keep it looking beautifully lush and green.
There are many benefits to installing synthetic turf in your current athletics field location, including substantial savings on ongoing maintenance costs.
We also provide timely and cost-effective synthetic turf replacement, repair and maintenance solutions to sports fields in all states of disrepair.
We have 20+ years of experience in the business and do not use sub-contractors.
From base construction and project management to drainage and irrigation, our detail-orientated team handles everything.
As one of the nation's preeminent field contractors, our world-class high school baseball, football and multi-purpose sports field construction projects are approached with a genuine commitment to excellence.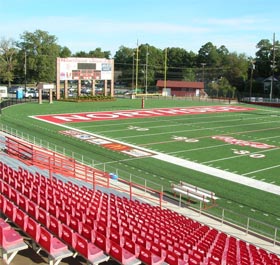 We have installed field turf for athletic complexes throughout the U.S. Our previous high school sports field turf and athletics complex design and installation projects include top-of-the-line, multi-million dollar venues all over the world. Click here to see a gallery of some of our previous sports turf installations.
If you've been looking for a trusted contractor to install sports turf for your football, soccer, baseball, softball, or multi-purpose field, look no further than Mid-America Sports Construction! Please call 816.524.0010 or contact us online today for further details about the high school sports turf and athletics turf construction projects we can do for you. We service nationally and provide free on-site consultations for your convenience!