Paragould High School
Artificial football field turf upgrade in Paragould, Arkansas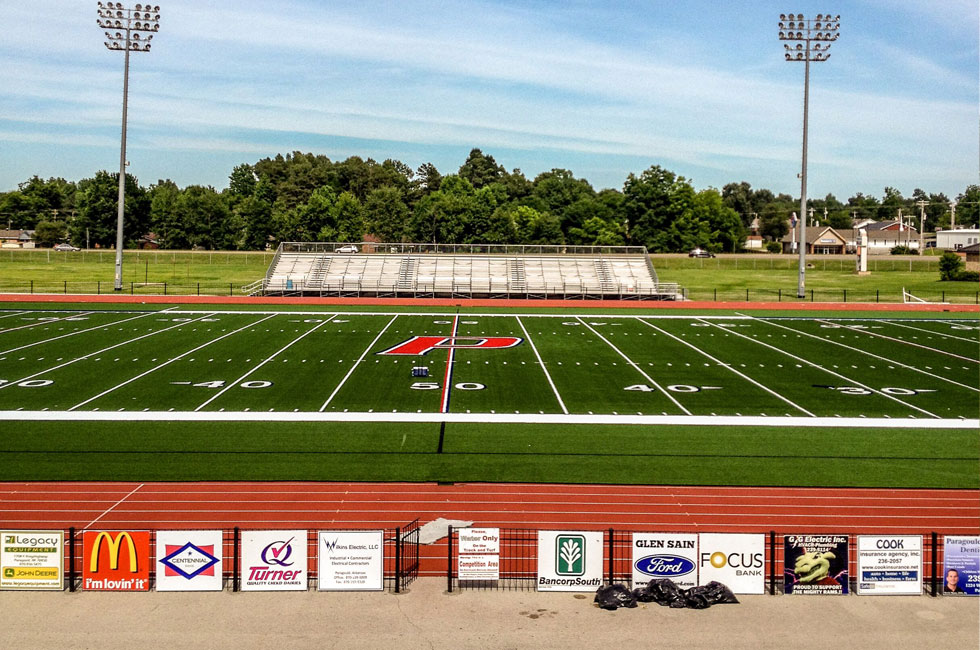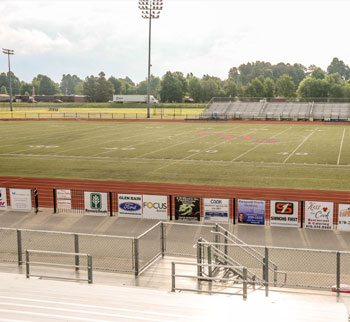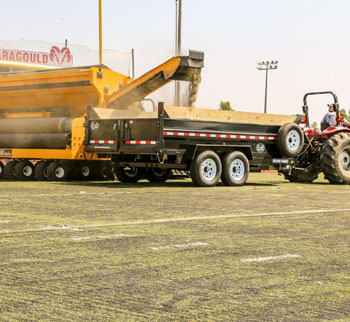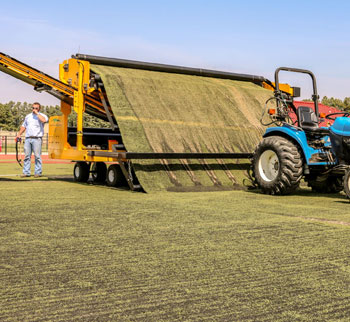 Goals and Expectations
The goal for this project was to upgrade the football field turf at Paragould High School. The scope of work included the removal and legal disposal of the existing turf, sanitizing the existing crumb rubber infill to be used again, and a new AstroTurf field installation.
Challenges
Some challenges we ran into during this project involved the weather, completing the project before football season began, and making sure the infill material from the old field was re-used properly.

The Solution
The weather was a big factor during the construction process. It rained for a total of three weeks during the project, which made it tough to get done in time for football season. Our team worked relentlessly to get the field done in time so athletes could enjoy the new artificial turf for their upcoming home games. We re-used some of the infill from the old field, so the process took a little longer than usual. Our team had to clean and sanitize the infill before we could apply it to the new turf. Overall, Mid-America Sports Construction contractors were able to work together as a team to finish this project on time.
Testimonials
"We just completed the process of replacing the turf on the football/soccer field at Ram Stadium and I must say that I was very impressed with Mid-America Sports Construction.   I was not only impressed by their equipment and the process of reclaiming the infill, but more importantly the professionalism their staff displayed while they were here.  I can't say enough good things about the staff from Mid-America Sports Construction and how they treated our staff and patrons who were interested in watching and learning about the turf removal process.  Their new infill separator did an amazing job of separating the infill from all of the debris that had accumulated in our turf over the last ten years.  The quality of their separation process allowed us to re-use the original infill, which saved us money, and keep the infill out of our landfill.  Our only unknown was the landfill cost for the disposal of the turf, but Mid-America solved that problem.  Their removal system left us with rolls of clean carpet that quickly became a hot commodity among our local youth baseball leagues, carpet salesman, and area baseball instructors who wanted turf for their indoor facilities.  By the end of the last day of turf removal, every roll of turf was reclaimed for another use, which again saved us money and kept it out of our landfill."
Project Specs
Budget: $370,000
Field Type: Synthetic re-turf
Grass Type/Product: AstroTurf 3D Xtreme 52
Facility Type: Football Stadium
Size of Field: Regulation
Location: Paragould, AR
Square Feet: 89,386 square feet
Days to Complete: 6 weeks
Links to the website of where the facility is housed: Paragould.k12.ar.us